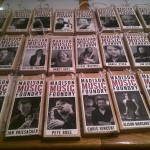 I offer violin and viola lessons at Madison Music Foundry several days a week.
I teach any level of player, and all styles. Jazz, swing, fiddle, rock/pop, classical, improvisation… anything you're interested in, I can probably help you with.
In addition to private teaching, I've been a Solo and Ensemble judge and a clinician at numerous schools and string festivals. I also spent a semester teaching string improvisation at Wichita State University. More info about me is available here, and you can check out some recordings I've played on here.
If you'd like to get in touch about lessons, you can contact me here or call the Foundry at (608) 270-2660. I look forward to hearing from you!