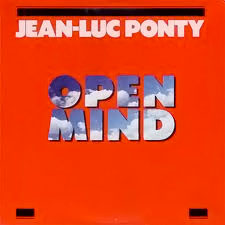 This is the title song of Ponty's 1984 album Open Mind and is the first track on the record.
The solo section is basically a development from the song's initial declaration into the solo section played by Chick Corea. From what I can guess those two guys have had a long friendship, or at least a long working relationship.
Recently they were've been touring together on a Return to Forever reunion. Interestingly, Frank Gambale, who played with Ponty back in 1986, was also on the tour.
At any rate, here's the solo:
This tune is from what I think of as the middle period of Ponty's fusion records. From Individual Choice (1983) through Storytelling (1989) Jean-Luc has a more minimalist approach driven by his keyboard and percussion programing. ("Elephants In Love," from Fables (1985) which I transcribed in an earlier post, is also from this era.) Open Mind is maybe the height of this period, with two drummers and two guest soloists (George Benson and Chick Corea) as the only other musicians on the record.
The solo section serves as a kind of development or bridge that joins the song's opening to the ostinato figure that underlies Chick Corea's solo, and continues to the end of the tune.